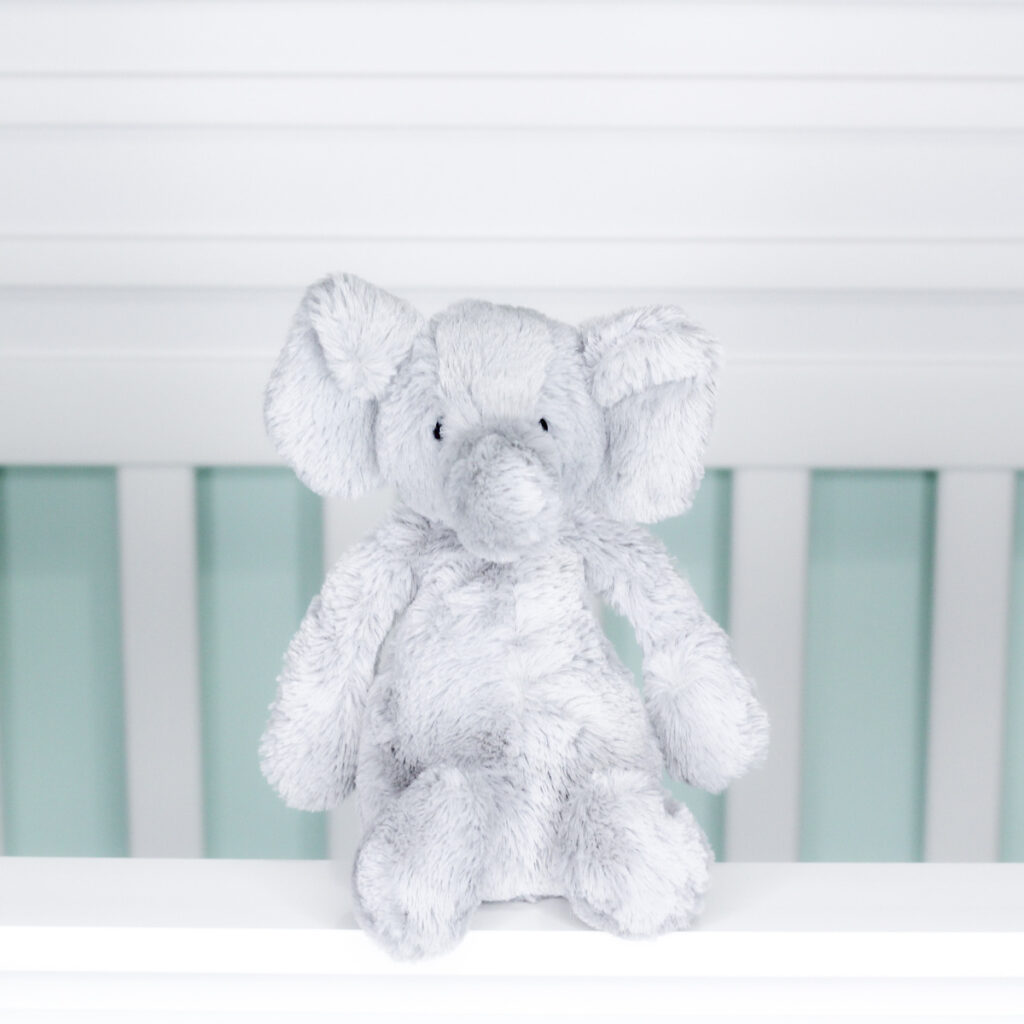 We recently decided to introduce a Lovey to our daughter, and like with anything else I do, I took the research and selection process to another level lol. In my eyes, I was picking out my child's new best friend, who would be there and comfort her when I couldn't. This wasn't just any new toy or stuffed animal, this would be our new family member.
And since I was initiating the introduction of a Lovey, I didn't want to miss out on the chance to pick the perfect new friend. So I came up with a list of ideal qualities in a Lovey and I thought other mamas would also find this helpful! Here are the things I considered when picking out my daughter's Lovey.
1. Replicatable
Lots of moms choose to have two Loveys in rotation at any given time. They are the exact same object, just duplicated. The Lovey is then rotated on a regular (daily or weekly depending on what you'd like) basis. The rotation allows for even wear on the Lovey. The double allows for cleanings of the out of rotation Lovey, or a backup in case the "active" goes missing.
In order for this system to work, your child's Lovey can't be one of a kind. For me, this immediately nixed the handmade or custom made option. In the case of a Lovey, generic actually works to your advantage.
2. Replaceable
Like I said previously, a Lovey isn't just another stuffed animal. Your child's lovey become their comfort object, they safe space, their security. So goodness forbid you ever loose the Lovey, you want to be able to run out and get a replacement ASAP.
So practically speaking, you want it to be as easy as possible to get a replacement. Like in the previous point, handmade is just not advisable, since it would take a significant amount of time to recreate any handmade Lovey. You also don't want some obscure brand that you will have to hunt around for and hope some little boutique has in stock.
Do yourself a favor, pick a large mainstream brand, and pick a Lovey that isn't limited edition, or isn't at risk of being discontinued.
3. Easily Cleaned
Kids are gross. Any mom would agree that is just a fact of life. Your child's Lovey will also be going everywhere with them, and getting into just as much mess as them. So I knew my daughter's Lovey had to be machine washable, period. There was no way I was relying on hand washing to get out whatever stinky gunk inevitable ends up allover the Lovey.
4. Safe
Your kiddos Lovey will very likely be sleeping with your kid, as well as being chewed on, pulled at and generally beat up. You want a Lovey that will safely hold up to this. So no small choke-able pieces that are at risk of coming off the Lovey. I would also suggest no detachable accessories.
Some popular Loveys also come with blankets attached, and this is one you will have to personally decide if you are comfortable with. I personally went with a traditional stand alone stuffed animal, because that's what my mama gut felt safe with.
5. Child Approved
Possibly the most important quality of a Lovey, your kiddo has to fall in love with them! You can do all the research you want, and pick out what you think is the absolute best possible Lovey, but if your child doesn't like it, game over.
So I suggest doing your best at selecting a Lovey, purchase one before you double up, and introduce your kid to their new friend. Give them a day or two to see if they approve and start connecting to it, then go out and get yourself the backup.
My Perfect Pick
If you're curious which Lovey I went with for my daughter, we introduced Ella the Elephant by Jellycat, and it has been going great! I chose the small size because I felt the medium was just too large for my daughter (also makes is more easily portable).
I have been so pleasantly surprised by how fast my daughter attached to Ella, and she is now a permanent part of the family. It is clear how much comfort Ella brings during naps or other stressful times, as well as fun during play times!